An email from Margaret, our Urban Forest Project Coordinator (and amazingly awesome forester), arrived this week with a tally of volunteer work for fall 2015. It's pretty exciting. Here are the stats.
UFP Fall 2015 Planting Season
Logged over 400+ volunteer fall planting hours
Total of 106 trees planted
Planted at 5 city parks
Planted at our first dog park!
Planted at 2 Grand Rapids Public Schools campuses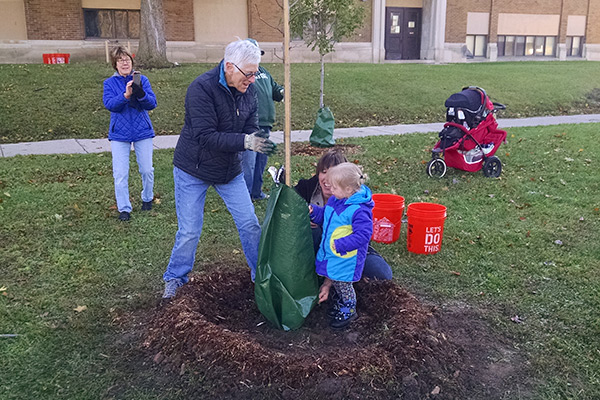 The above is a photo snapped at an October 25th tree planting at Congress Elementary. This little one (the girl, not the sapling) is one of our youngest participants yet. However, she was able to ID trees from their leaves more accurately than most of us there. Here she is zipping up a Treegator® bag so we can fill it with water for the tree.
Planting For Our Future
Margaret also sent along info on a new program called Planting for our Future. She says "this is a collaborative effort between Friends of Grand Rapids Parks and the Grand Rapids Public Schools to help raise awareness, increase understanding of Urban Forest issues, and further grow the City's canopy all while using trees to teach students important cross-curricular lessons.
As a part of this project, we are offering teachers and school administrators and/or collaborating GRPS/parents the funding, technical assistance, trees, or support to host an urban forest project or event within the schools."
Interested parties can contact Margaret through the Urban Forest Project website.