Tonight I attended a Native Plants 101 presentation by the River City Wild Ones, a local chapter (1 of 12 in the state) of the national Wild Ones organization. In the words of the Wild Ones website, the "Wild ones is a national not-for-profit organization with local chapters that teaches about the many benefits of growing native wildflowers in people's yards." Not only did I enjoy a presentation about native plants, but it was held at Brewery Vivant. As I told my Other Half, I could only have been happier if he was there with me and I was petting a kitten.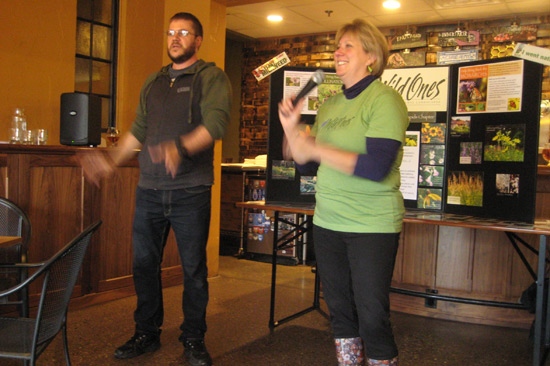 Amy Heilman, Education Coordinator for River City Wild Ones, did a great job in summarizing for the attendees why integrating native plants into the urban and suburban landscapes is important. These native plants create the foundation for a local ecosystem. Local pollinators whose numbers have been in decline depend on native plants for food. These pollinators, most being insects, are a food source for many bird species, and so on and so forth. As I learned at Bee Palooza last year, the act of supporting pollinators alone is really in our best interest.
Why Native Plants are Amazing
Native plants are as tough as nails. There is a bit of maintenance like any plant, but they often do not need to be pampered and can adapt to many site conditions.
Native plants provide a food source for many pollinators, you know, the little guys pollinating many of our agricultural crops so we have food.
Native plants often do not fall victim to diseases cultivated plants catch, eliminating the expensive (and harmful) need for pesticides.
Native plants prefer not to be fertilized and often do not need heavy watering while becoming established in the garden.
We Should Plant Weeds?!
The biggest challenge for native plants, I believe, is us. In the United States during the 1940s there was an increase in big lawns, shrubs and foreign plants. We have been raised to believe an orderly garden and huge expanse of well-manicured lawn is the ideal. This will secure in our mind and our neighbors' we are indeed successful and responsible homeowners. Even roadsides are sprayed with herbicides and highway rest stops are landscaped with exotic plants. Business properties are limited to a few choice selections of shrubbery.
Many native plants are labeled weeds because they are not for sale at a garden center. Bees are dangerous! (nope) Bugs are terrible for our plants! (not really) Often we do not realize what sterile environments our "natural" gardens have become. So many natural and monetary resources are needed to maintain a style of landscaping that gives back nothing in return.
Know the Plants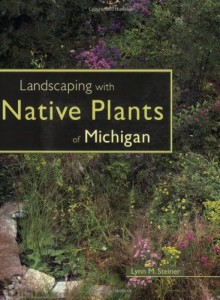 Some native plants can become a bit unruly toward the end of a growing season. The sight of such could drive some gardeners to drink. However, learning more about native plants and their growing habits will reveal a large palette of options for even the most OCD gardener. A great book the River City Wild Ones recommends for our state is Landscaping with Native Plants of Michigan by Lynn M. Steiner.
One of the Wild One's members shared some knowledge he gleaned while gardening with natives. When planting a bed, take extra effort to make the edging look nice. This alone can visually tidy up the unkempt look of some native plantings. Also, some natives get quite tall. Be sure to keep those plants back away from driveways where they would impede someone's view of oncoming traffic.
You Can Start Small
Even after attending this presentation, I am not inclined to return home and rip out all non-native plants from the Lot. Instead, we will continue to integrate natives throughout our landscaping. As I told Amy, I am fascinated with the idea of reintroducing the natural world into an urban garden, blending native plants with commercial cultivars. I'm really excited to see how the native plants introduced to the Lot last season will look this season.
Gardeners can start small by planting a little, sunny strip as a butterfly garden. If you're already raising veggies, dress up the edges of the bed with native plants that attract predators and parasitoids to cut down on the need to spray. Love birds? Try a colorful stand of native coneflower to provide the birds with delicious seed heads before their migration.
The First Steps to Reintroducing Native Plants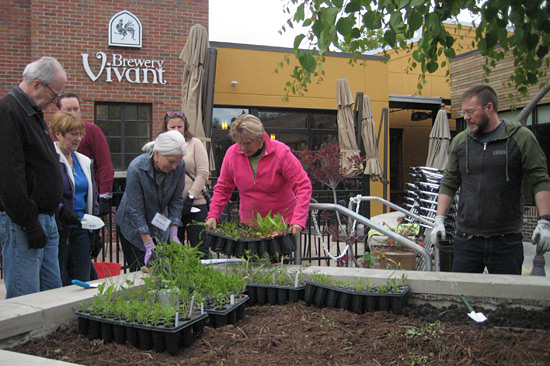 After the presentation, attendees were able to participate in planting a large bed outside of brewery. Though it was a chilly 58 degrees outside, we filled the bed with a large variety of native plants and grasses. I will be checking back on these little ones throughout the season to see how they fair in the urban landscape. How wonderful that Ward at Brewery Vivant organized the event and the brewery as a business in the neighborhood supports this! Even while we were planting, many pedestrians passing by stopped to ask what we were up to, allowing us to spread the knowledge.
Buying Native Plants
When purchasing native plants, be sure to ask the nursery how the plants were grown. Plants from seed are best as they are more genetically diverse. Also, be sure plants were not grown in a different region and then shipped to your growing zone.
For my fellow Michigan gardeners, here are some names to look up when seeking native plants:
Calvin College Ecosystem Preserve, Grand Rapids
Designs by Nature
Hidden Savannah Nursery
Kent Conservation District
Michigan Wildflower Farm
Native Landscapes
Sandhill Farm
She is Growing Wild
WILDTYPE Design
The Larger Picture
The truth is, there is a larger picture than what our neighbors think of our landscaping. By integrating native plants into the garden, we are creating the first building blocks of a diverse ecosystem. Native plants spread throughout a city can create a type of "Green Corridor" or "Pollinator Pathway" to reintroduce nature to our urban landscape.