So… I am not one to say I suffer from arachnophobia. I'd instead like to say I have a healthy respect for spiders and prefer to give them their space. They are fascinating creatures, as long as they stay put in the garden and do not drop down on top of me while I'm working outside. If they do that, I have been known to shriek and run away across the yard while wildly flailing my arms.
When I was outside today snapping  "this is what the garden looks like at this time of year" photos, I also took pictures of a few spiders. Over the labor day weekend, I noticed an overabundance of spiders in the backyard spinning webs that looked like funnels. I had seen one of these on a pepper plant a few seasons ago. This season Charlotte must have been having a reunion back there because I'd never seen so many in the garden at one time. Then today when I found yet another type of spider I decided to finally look up these creepy crawlers.
Funnel web spider (Agelenopsis spp.)
This first spider is the species I noticed everywhere on the Lot, especially in the backyard. What's so noticeable about them is they do not spin what I think of as a "traditional" spider web. Instead, their web appears like a thin sheet of semi-transparent tissue that decreases down into a distinct tunnel.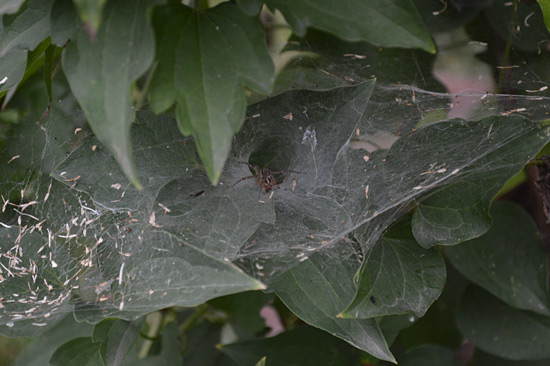 These guys are Grass Spiders or Funnel Web Spiders. According to the MSU Integrated Pest Management website, they belong to the larger funnel weaver family called Agelenidae and are important predators in the garden. The spider will wait back in the tunnel out of sight for vibrations to signal something has landed on the non-sticky web. It will then rush out and either pounce on the prey or realize it was a false alarm (aka a curious gardener) and retreat to the back of the tunnel to hide.
Here's a closer look at  the spider above. I believe it is a female. According to a graduate student at Ohio State University, a male's palps make him appear he is wearing boxing gloves.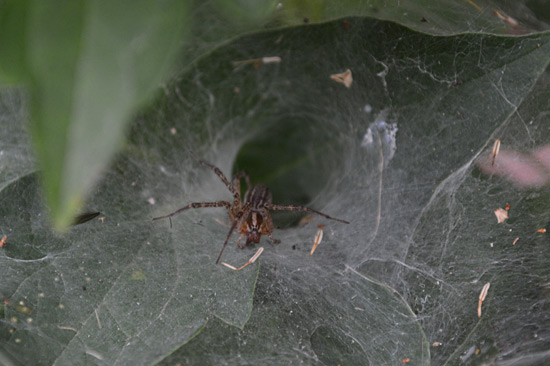 Araneus diadematus
The second spider I noticed had spun the "classic" geometric wheel-like web between two blooms of a potted coleus. He or she was hanging out, head downward, in the center of his/her web. This one was orange-brown and I hadn't seen it before on the Lot.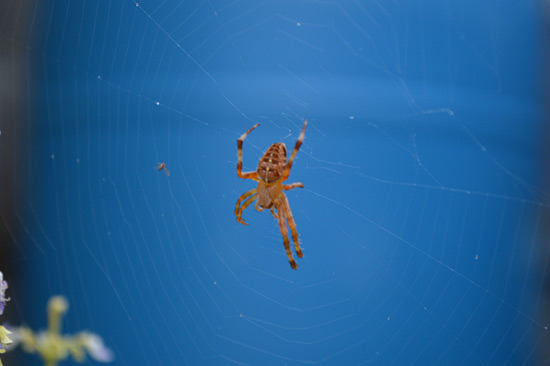 Thanks to the Animal Diversity Web, a project of the University of Michigan, I was able to ID this spider as a Cross Orbweaver. These little ones have the traditional sticky webs that insects get caught up in. Also, this group of spiders are known to consume their webs and rebuild them each day. Overachievers. Here is the close-up.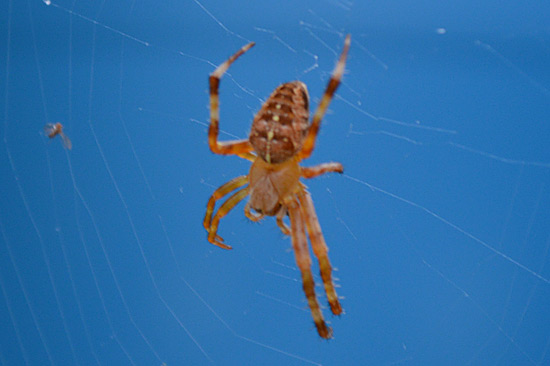 But Will the Spider Bite Me?
Most homeowners are concerned spiders will either:
bite them
bite their children, or
invade their homes.
Spiders do not eat people in Zone 6a. They eat bugs.
With that said, spiders may bite if you try to grab ahold of them. Most wild creatures do. If children try to pull off their legs, the kiddies will more than likely be bit. Those children should  be committed because they will probably grow up to be serial killers. (This last statement is solely the gardener's honest opinion… just sayin'.)
Spiders also do not make a habit of entering a home, even when spinning webs near the foundation, if there are plenty of insects outside to lunch upon. The majority of spiders' lifespans end with the arrival of our winter freezes and snowfall. The egg sacs are what winter-over to the next season, delivering a whole new staff of natural pest control to the garden.