It's time for another Bloom Day post, a meme hosted by May Dreams Garden, and the rain has made this one quite soggy. Spring  is passing and summer is bringing with it humidity, especially this past weekend. Warm, gentler rainfall is adored by the plants on the Lot and they are quickly growing larger in size as a result.
Blooms that are finishing include the sweet william, peonies, sweet woodruff, and false indigo. Blooms now appearing on the Lot include:
Blanket Flower (Gaillardia)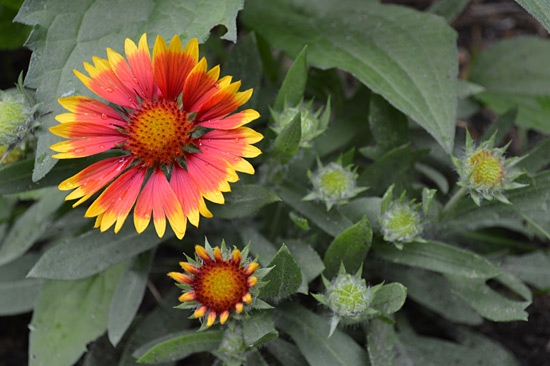 Roses – Here is our monster climber (the Other Half's nemesis) at the southwest bed.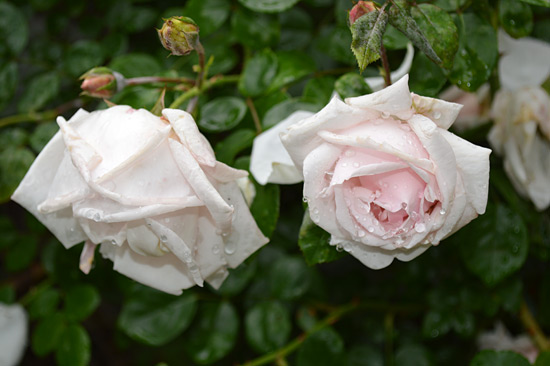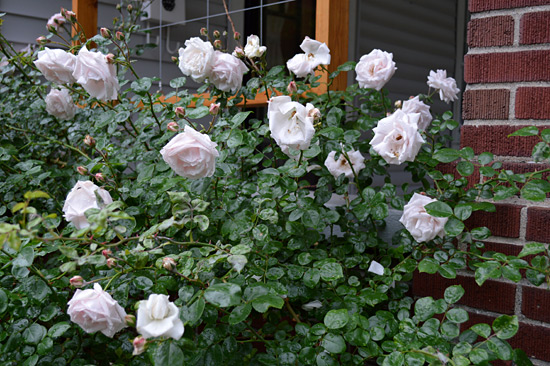 And here is the red climber we found squished between the now removed arborvitae and the yew in the south bed. This one usually blooms a week or so ahead of the above climber.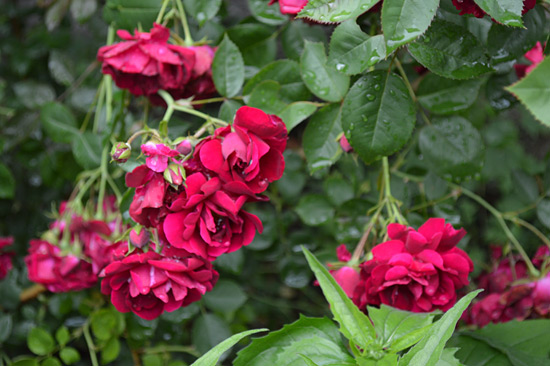 In an east bed is a second-season resident, first-time bloomer, masterwort (Astrantia major?).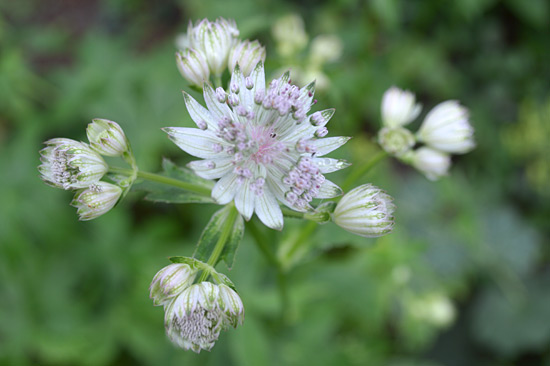 The native beardtongue purchased last year is also blooming. It's quite happy in its dry, morning light / afternoon shade bed.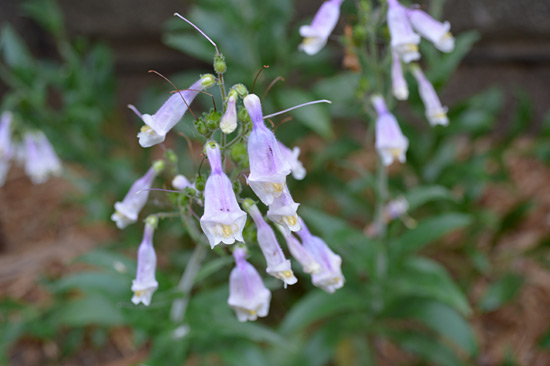 Here is a pretty beardtongue (Penstemon) I adore for it's burgundy stems and dark green foliage. The lighter blooms provide quite the contrast. This plant popped up in the backyard bed in front of the blooming jupiter's beard (Centranthus ruber). The mother plant lives in the fence bed.

Speaking of Jupiter's beard, when looking up its latin name, I discovered another of its common names is "red valerian." It shares the same family, Caprifoliaceae (the honeysuckle family), as valerian (Valeriana officinalis)… which happens to be blooming now in the alley bed. This lacey bloom has quite a pretty scent.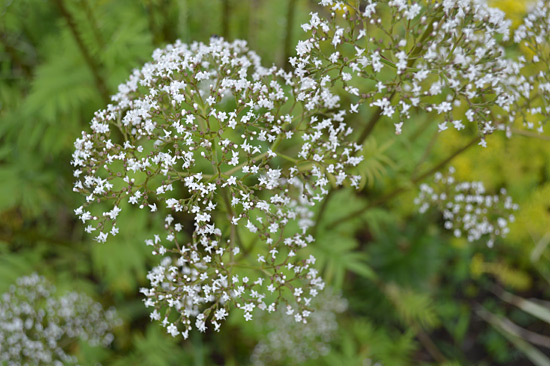 Also in the full sun alley bed, this allium I received from Mrs. N is in bloom. I leave the seed head up all season as a living sculpture.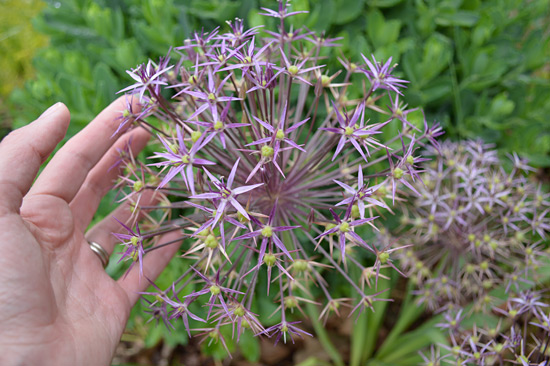 Across the back drive from the alley bed is an area of yard being used as a pseudo holding pen. Eventually, I hope to edge out a bed for the plants living there. One such plant is this sunny lily just beginning to bloom.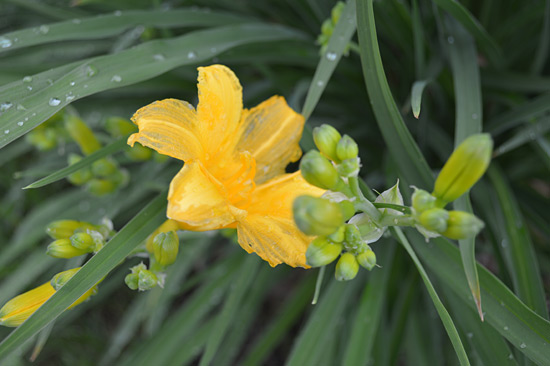 The variegated deadnettle (Lamium) from Mom G. is now blooming and will continue throughout the season. In this photo it is snuggling with a maidenhair fern (Adiantum). This plant grows as a ground cover and spreads quickly when it is in the right place. I often have to trim it back several times during the summer so it doesn't overwhelm its neighbors.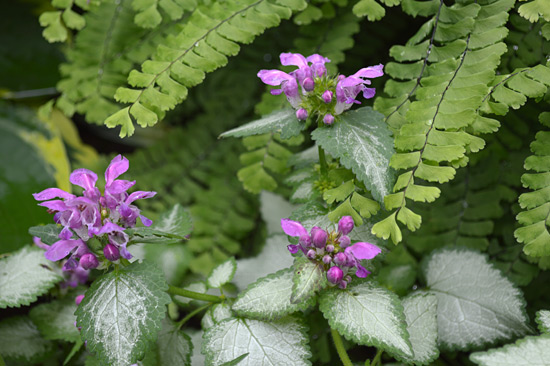 Nearby the foamy bells (Heucherella) is blooming.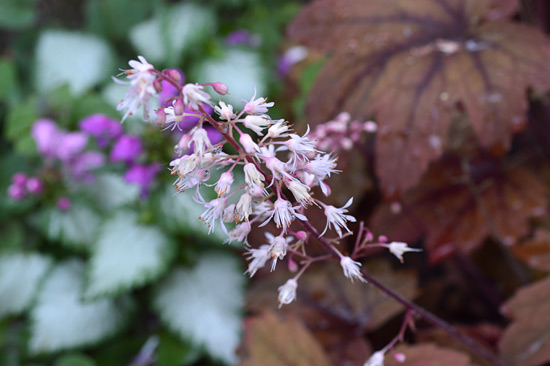 The cheery tickseed (Coreopsis) is in bloom in the fence bed.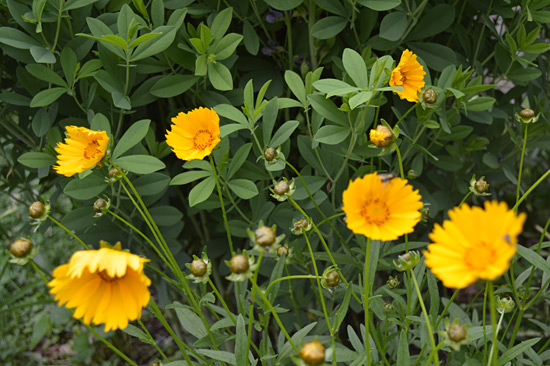 And finally, here is a bloom from one of the annual containers.