I feel this garden season has been packed with plant identification. In no way am I complaining about this. Plant identification is a pretty enjoyable game to me. When a fellow gardener was telling me about a swift-growing vine with heart-shaped leaves in her home garden, I fought the urge to immediately hiss "bindweed" (Convolvulus arvensis). The weed is from the Morning Glory (Convolvulaceae) family and is a complete terror on the Lot. I agreed to make a visit to help with some pruning, so I pretty much had to find out if I was right or not.
Analyzing the Offender
When I arrived and was able to meet the vine in person, I realized it wasn't bindweed. I would recognize my Nemesis anywhere, in any growing zone, and this wasn't it. Yes, the vine was eating the porch alive and the leaves were heart-shaped. However, I immediately noticed what looked like white seed heads in large clusters all along the vine… not a trait of the bindweed we deal with on the Lot.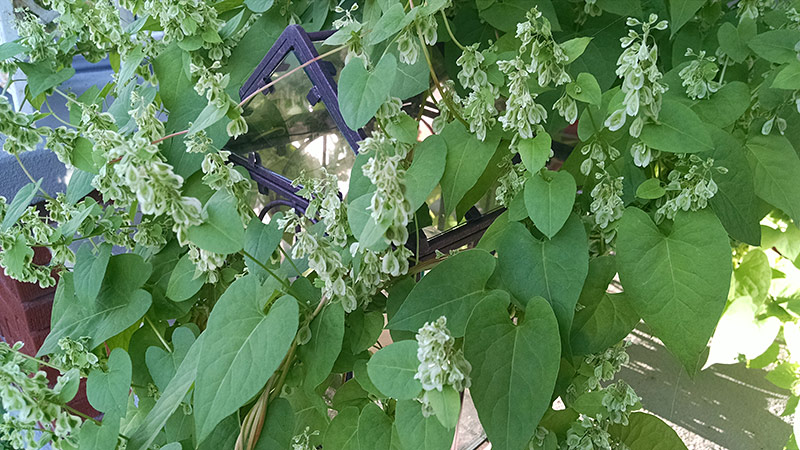 There aren't many weedy vines in our state, so I started going through some weed ID sites looking for the vine that would be going to seed at this time of the season. Eventually I found a site for a project at the University of Michigan: Burnham, R.J. (2008-2014). "CLIMBERS: Censusing Lianas in Mesic Biomes of Eastern RegionS." (September 6, 2017).  And that is where I found the name of the plant I was looking for: Black Bindweed (Fallopia convolvulus) of the Buckwheat (Polygonaceae) family.
Up Close and Personal
When ID'ing a plant, there are a lot of clues one can pick up by taking a thorough look at the specimen. Parts of the black bindweed helping me to ID it were:
alternate, simple, heart shaped leaves
vine, twining from right to left
glabrous (free from hair) ocrea (sheath around the stem)
roots are non-rhizomatous
branching of vine located more near base of plant
papery calyx (sepals of the flower)
flower understated with no petals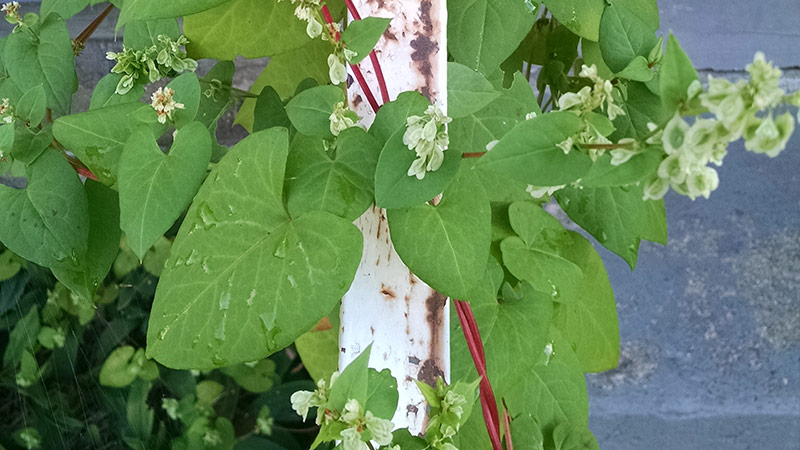 Evicting the Weed
I struggled to find a control method for black bindweed. It's an  aggressive, annual weed introduced from Eurasia. The plant spreads by prolific reseeding. The seeds themselves are enclosed by a hard shell and can be viable for more than a single season in the soil. In fact, this was the reason my gardener friend inquired about the plant. She said though a crazy climber, the plant was kind of pretty (which it was). But then she saw all the flowers (future seeds) and thought "Oh sh*t." Yeah, we've all done that before.
What we do have on our side when removing this vine is the fibrous root system and the small area of a home garden. Though fairly deep, the roots aren't a rubbery, rhizomatous system that takes off underground like a berserker gopher. The plant was removed and burned. Next season, the gardener has to keep an eye open in the spring for any new seedlings and pull as needed.