After a garden fieldtrip to Lake Cliff Garden, we stopped into a neighboring town for lunch and some social time. On the top of a hill near the lakefront, I found this large stand of common milkweed (Asclepias syriaca). Of course I had to go over and see what little critters were enjoying the beautiful, summer day.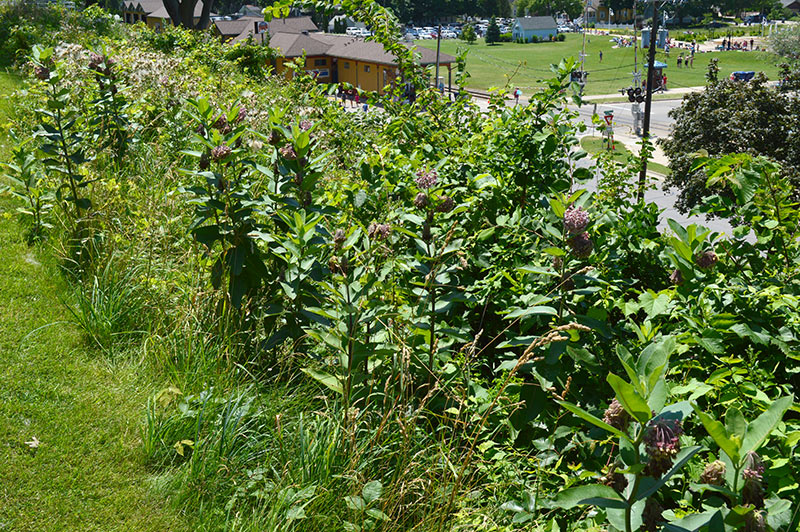 I was not disappointed! One of the insects immediately catching my attention was a colorful, red beetle. I was able to snap a pretty good photo to bring home and use to identify the milkweed resident.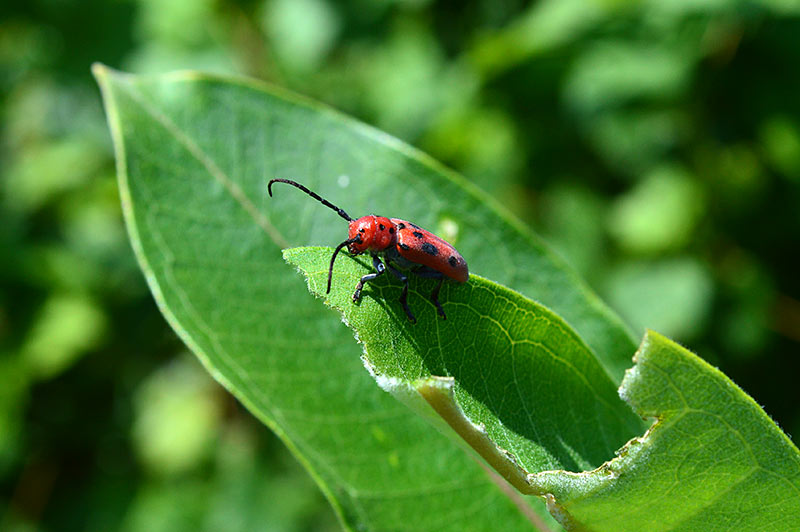 Red Milkweed Beetle
The insect is Tetraopes tetrophthalmus or the Red Milkweed Beetle. Like many other insects who feed on milkweed, the beetle's bright color warns predators it is toxic because it ingests the plant. Larvae burrow underground to feed on the roots and overwinter. Adults emerge to feed on leaves, buds, and flowers of the plant and can be spotted in our growing zone about midsummer.
What's With the Eyes?
Something interesting I read and then found on my photo, was the position of the beetle's eyes. Let's zoom in for a closeup!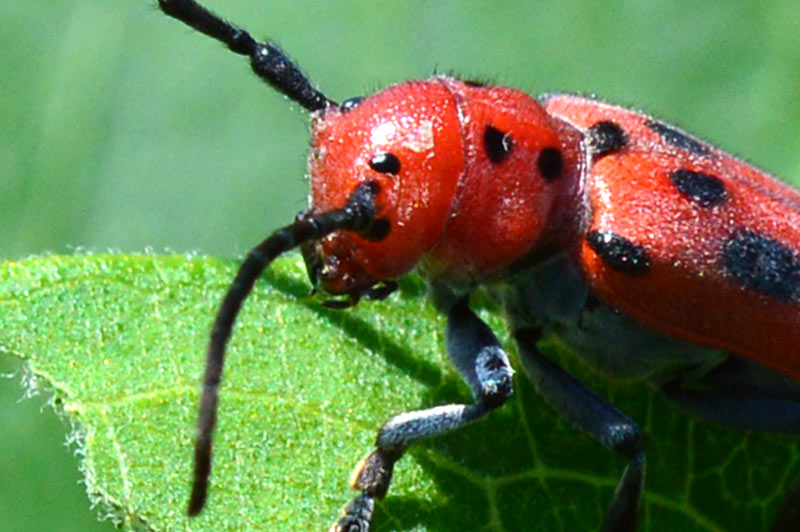 The Red Milkweed Beetle's compound eyes are bisected by its antennae. One set of eyes is located above the antennae, while the other is located below. In Latin, both the genus and species name translates to mean "four eyes."
Purring Bugs?!
Another fascinating fact I stumbled upon while cyberstalking the Red Milkweed Bug is that they vocalize. These bugs squeak and purr! A gentleman by the name of Richard D. Alexander wrote a paper in 1957 titled Sound Production and Associated Behavior in Insects. When observed in the lab, the RMB vocalized when going about its day interacting with the milkweed plant and others of its species. It does so by rubbing together structures on the segments of the thorax. I will definitely be leaning in to take a listen if I'm fortunate enough to spot the Red Milkweed Beetle next season.
But Will They Harm Me or My Plants?
The short answer is "no." A healthy stand of milkweed will not be harmed. If you'd rather not see the beetles, you can remove the milkweed plant from the garden. As with most creatures, if the beetle is not assaulted and manhandled, it will not bite.
References
College of Letters and Science Field Station – University of Wisconsin Milwaukee